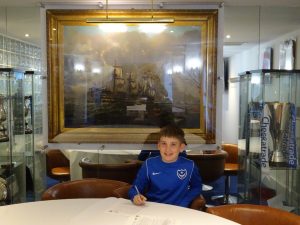 Hugo Shaw leaves our hugely successful academy after three years and has signed a 2 year contract with Portsmouth FC and we all wish him every success in the future, fully deserved. 
We also have several other players who were previous Academy members and have now moved on to professional clubs, a selection of those are listed below.     Great news and we will keep an eye on them through the years.
Players include………………..
Connor Hall (Chorley FC) – Connor played for Phoenix Football Academy in 2015 at the World Youth Cup in Sweden, and has enjoyed contracts at Sheffield United, Bolton Wanderers and Woking FC and had several loan periods at clubs, including Accrington Stanley and is currently on contract at Chorley FC and had a successful 2021 FA Cup run finally ending at Wolves in Round 4.
James Richardson who represented Phoenix at 4 Gothia Cups, captained our U18 squad at the Gothia Cup 2018 in Sweden in July, represented the English Schools FA U18 England squad in 2019.  This is a fantastic achievement for James who has been truly dedicated to pushing himself to the next level.
Pierce Bateson (New York Red Bulls) – Pierce represented Phoenix at the Gothia Cup 2016 and was a keen academy member and has recently enjoyed four years at Reading FC Academy.  An excellent young player with a great attitude and we will certainly keep an eye on his progress. Pierce now also represents Republic of Ireland U16's recently playing for them in the USA.  Pierce has now joined the New Your Red Bulls.
Oskar Ohlenschlager (ex AFC Wimbledon) – Oskar played in the World Youth Cup in July 2016 with Phoenix and was an Academy member before joining AFC Wimbledon.  Oskar now plays academy football in Denmark and we wish Oskar every success in this new venture.
Jaye Long (Fulham FC) – Jaye played at U8/9 with the Academy and then signed forms with Fulham Academy.
Caylan Vickers (Reading FC) – Caylan left Phoenix and signed a contract at Reading FC.
We are certain that there will be many more to follow.